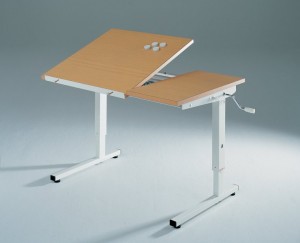 Ergotables
These flexible tables take individual requirements as well as various applications regarding seated and/ or standing work into consideration. The tables have no inconvenient cross brace and therefore they are very suitable for wheelchair users. In addition the tables are accessible from both sides.
The tables are all adjustable in height with a choice of tabletops in various designs, and can be equipped with accessories such as an adjustable edge bar, supporting ruler, or an additional top with boomerang.
The tabletops are surfaced with a non-reflecting laminate in beech finish, that enables individuals with visual impairment to distinguish objects on the tables.
The Ergotable is available in three ranges of height adjustment:-
48-68cm
56-84cm
64-92cm.
There are three tabletop measurements to select from:-
90 x 60cm
120 x 60cm
90 x 90cm
There is a choice of tabletop configurations, included tilting and split tabletop options.
As an optional extra, you can choose to have an additional top with cut out and a boomerang (as pictured).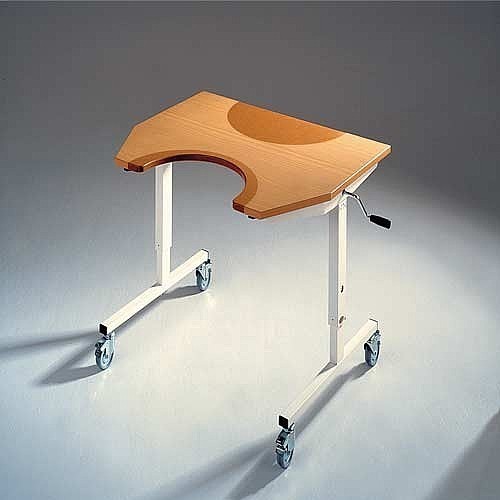 Multi Ergotable
The Multi Ergotable is a height adjustable working table with 'cut outs' in the front and the back of the tabletop providing support for the body and forearms. The tabletop has angled corners allowing more space for the therapist to assist the user
The working table is ideal for training situations where the user and therapist are sitting close together or opposite each other
Wheelchair users can sit close to the table as there are no inconvenient crossbars
For adjustments, the standard version of the Multi Ergotable includes two boomerangs that can be easily slotted into the 'cut outs' of the tabletop. A semi circle 'fill in' piece is included and can provide additional surface area when required
Length x Width 90 x 70cm
Three ranges of height adjustments available:-
55-77cm
65-93cm
73-101cm